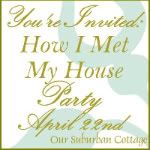 Over at
Our Suburban Cottage
is a charming party on how you came to live in your home. I love this idea! So, I'm joining the fun!
My husband and I married only 2 months after I graduated high school. Yes, I was 18 when we married. So for our one year anniversary, me working two jobs, him working full time and going to school full time, we decided it was time to move from our shoe box sized apartment (1bed/1bath about 500 sqft!) and look into buying a little starter home. We looked at several places and liked a few. We put in an offer on one house and it fell through. Then about a week after the offer failed on one house, our realtor showed us a house that, of course, was at the very top of our price range. We both fell in love! It was a 4bed/2bath house, huge lot, great upgrades and the sellers where motivated! We put in an offer, the lowest we thought we could, and they denied it. I was heart broken! We had already envisioned our soon to be children growing up in that house, having a dog in the backyard, the whole nine yards. So we continued to look, but nothing was as good as that wonderful house. Then the seller's realtor called our realtor and asked if we were still interested in buying the house. Of course we were! So they gave us the terms in which they would accept our offer and we made it right then and there! Our dreams were finally coming true! But, the seller's, who gave us the terms, made it very clear as to what they would settle for, we did everything they asked for, denied our offer! WHAT?!!!! Again, heart broken, we started thinking that maybe it was not a good idea for us to buy right then and we started looking for bigger apartments.
Suddenly, our realtor called us and said he knew of a listing just down the road from the dream house, that was priced way lower than the dream house, had one less bedroom than the other, but just as big of a lot and no one living behind us. We went to see it and instantly fell in love. The moment we walked in, it felt like home. We made an offer right then and there as the house was not technically on the market until the next day. So we were first! And we finally got our home.
It needed a few cosmetic things as the previous owner loved the color pink... as you can tell... (yes the house is pink with blue trim.) There are no words to describe. Made it easy to give directions to our house during daylight! "Just turn left and look for the pink house. Yep, that's us!" (Its green now with white trim, just don't have any pictures of it and its probably going to change in the next year.)
She painted this horrible purple wall, which is now our chocolate brown wall.
And LOVED wallpaper borders! It was in every single room! And it wasn't just borders, it was pink flower borders! But other than that, the house was almost spotless.
It was so funny to move from such a small apartment to a 3 bedroom house! It was so empty in there when we first moved it. Now, is a completely different story! After living here for 6 years and we now have 2 children... we're bursting at the seams!
I still walk past the other house all the time and still dream about it, but over the years we have seen the siding fall off, the shingles ripped off the roof from the prairie winds and a lot of things fall apart around that house, so I am so thankful that we got this house and have not had anything bad happen... knock on wood... since we bought it. What a blessing to own your own home. Its the home both of my kids have come home from the hospital to, its where our story really started. I love it.
Now head on over and read more stories like mine and join the fun!